Shalom shalom shalom from us three in Jerusalem! The high holidays are over and the season has changed…
Thank you again for entrusting us with the financial gifts that the LORD has blessed you with. It is our heart's desire that as you give you will be given every spiritual blessing! We have truly been blessed with our little bundle of joy…
On October 15th Letitia gave birth to our son, Ethan Asher Bergen. Ethan is Hebrew for strong and optimistic, solid and firm. We named him Ethan because the moment he was placed on Letitia's chest he was able to lift his little head and stare straight into Letitia's eyes. The midwives were both astonished by the strength in his little newborn body (and we are still astonished by his lungs that keep getting stronger!). Asher is Hebrew for happy and blessed. We named him Asher because from the day we found out that he was conceived we have felt the LORD's powerful blessing, and we have never been so happy!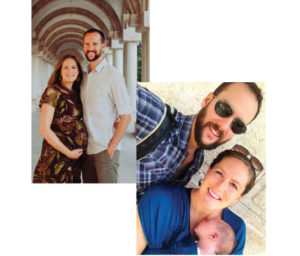 The Scripture verse that we have chosen for Ethan is Psalm 89:1. The Psalm is written by Ethan the Ezrahite, who's wisdom is compared to King Solomon's (1 Kings 4:31). Psalm 89 starts with these powerful words: "I will sing of the steadfast love of the LORD, forever; with my mouth will I make known your faithfulness to all generations."
We know that many of you have been praying with us through this time, and the LORD answered in miraculous ways! Letitia was able to give birth in our little apartment with the help of two midwives, and a very nervous soon-to-be father… Letitia's water broke the night before the birth, and we were instructed to go to the hospital if labour didn't start within 16 hours. The hours passed by quickly but the contractions didn't seem to intensify. Then just as we were getting ready to go to the hospital, suddenly Letitia's contractions came hard and fast. We called the midwives to come.
Two hours later, we were staring at our beautiful baby boy… The midwives were in awe of how quickly everything happened. They are secular Jews, who told us that because of the perfect timing, ease and speed of the birth that they could sense a divine blessing over us. Since the birth they have both been very interested in our faith and the work we are doing in Israel.
Volunteer Work…
As you can imagine, this past summer has been a quite one for us. We have done our best to rest and prepare for the coming of our baby. Letitia is now staying home to take care of Ethan, and thankfully Bridges for Peace has found a replacement for her. When we first learned that Letitia was pregnant, we started to pray that the LORD would provide a graphic designer to take her place. At the time the publications department was overloaded with demands, and they were struggling with only three graphic designers to do the work. In the months leading up to the birth, the LORD miraculously brought three new graphic designers to replace Letitia. Despite Letitia having to leave, the Bridges for Peace publications department is now better staffed than it has ever been!
Stefan's job is also changing… In the past few months a number of senior managers that have been with Bridges for Peace for many years have felt the LORD leading them back to their home countries. One of the couples that are going back home have been serving with Bridges for Peace for 25 years, and they have been volunteering in the Jerusalem office for 10 years. Steven Hauer is the IT department manager, while Cheryl Hauer is the International development director. They will be leaving this December. Another couple, Pieter and Eddelene Marais, are leaving at the end of April next year. Pieter is the food bank and outreach director, and Eddelene is the manager of the publications department. They have been volunteering with Bridges for Peace in Israel for 20 years.
As you can imagine these are all very big shoes to fill. As a result we have all been praying for new volunteers, but in the mean time many positions and responsibilities will be shuffled around to try to fill the holes. On top of all this, donations to Bridges for Peace are already 15% under budget for this year. This means that we will likely have to cut back on our food program. The president of Bridges for Peace has called on us to pray, and we ask you to also pray for Bridges for Peace. Starting next year, Stefan will be taking on more of a financial oversight role for the food bank and other outreaches. Please pray for wisdom as Stefan continues to serve the LORD with Bridges for Peace.
Future Plans…
We also ask that you pray for the LORD's leading and favour with the Israeli Immigration department. In March next year our two year volunteer visa will expire. We will have to apply for a five year work visa to stay in the country. This may be complicated by the fact that we now have a baby to include on the visa. We will also need to apply for a Canadian and New Zealand passport for Ethan. It may take a few months to process all the paperwork, but our desire is to visit you all in the coming year and finally give you an update in person and introduce you to our new family member!
Partner with us in prayer:
– Wisdom and skill as Stefan continues to serve the LORD with Bridges for Peace.
– Wisdom and skill as Letitia stays home with Ethan.
– Leading and favour with the Israeli Immigration department regarding our visa application.
– Pray for swift and easy processing of Ethan's passports.
– Pray for continued health protection & provision.
– Pray for the leadership transition and future of Bridges for Peace.
With all our love,
Stefan & Letitia & Ethan