Dear Friends & Family,
Today marks one month since our son Niklas Josia joined our family! And 2 years since our daughter Sofia Elise entered this world!
They say time flies when you're having a good time, and we have been! We feel so blessed and are grateful to God for how He orchestrated things so perfectly with Niklas' arrival. I (Jolene) would like to share a few thoughts with you from this past month and pray that we would each give God the glory for what He has done.
Even though this was my second pregnancy, it brought many new things and unknowns. The prenatal care system in Germany is a bit different to that of Canada, and the terminology related to pregnancy and medicine added a whole new set of German vocabulary for me to learn. Through much of the pregnancy I wished to be back in Canada with the maternity clinic I had been at during my pregnancy with Sofia. I felt so well taken care of by the doctors there. When it came time to choose a hospital here in Germany to give birth at, I wished I could be back in Abbotsford to deliver the baby in a hospital familiar to me and with which I had positive experiences and memories.
It was during this time that I began to pray for God's peace that surpasses all understanding. Through this prayer God led me on a journey of surrendering ALL my cares and desires. A big desire of mine was that I would not need to have a c-section again (as I had with Sofia). I was so consumed with this desire, that I was afraid of it not happening and worried about how things would work out. Throughout the pregnancy I continuously asked God to grant me a VBAC (vaginal birth after caesarean). It wasn't until the 8th month of the pregnancy that I realized I had never asked God what I should do in regards to this decision. A VBAC doesn't come without risks and it's a big decision to make. So I asked God what I should do. Through five circumstances I felt that God said "yes" to attempting a VBAC. It wasn't until I had fully surrendered this desire into God's hands that I was able to experience His complete and perfect peace.
And so for the last month of the pregnancy, every time someone asked me how I felt about having a baby in Germany (and I got this question a lot!), I was able to answer that I was completely at peace, because I had finally been able to fully let go of my cares & wishes and leave them with God. Glory to God!
On October 27th Adrian drove to Frankfurt with Sofia to pick up my parents from the airport. I was able to have a restful and refreshing day at home. They arrived at our place in the afternoon, and the next morning, on October 28th at 10:45am, Niklas arrived! God's timing is so perfect! When we left for the hospital in the morning, we didn't need to wake Sofia and were able to leave her at home with my parents. What a gift!
At the hospital God blessed us with even more gifts! He entrusted us with a healthy baby boy via a totally natural birth! Adrian and I both aren't the type to get emotional quickly, but during those first moments of holding Niklas in our arms, we both had tears in our eyes. We couldn't do anything but marvel at the greatness and goodness of God.
God blessed us with a wonderful team of midwives, and I felt so cared for and at ease. After Niklas' arrival, as we talked with the midwife who had delivered him, we found out that she is a sister in Christ and we were able to praise God for this healthy baby boy and his safe arrival!
Both Niklas and I were doing so well, that by the next day, October 29th, we were able to leave the hospital and join the rest of the family at home. What an incredible gift!
Our hearts are overflowing with thankfulness for how God orchestrated everything.
Three days after Niklas' birth as I was reading in Job, the following verse stood out to me:
"Submit to God, and you will have peace; then things will go well for you."

(Job 22:21, NLT
I feel like this verse sums it all up — the emotions and thoughts I experienced in this pregnancy and the things God taught me through it all.
Over the past few weeks we were able to reconnect with some past TREKers.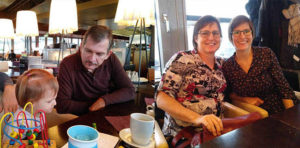 We had a wonderful time with Jolene's parents. Sofia loved having her grandparents here and we're so thankful they could come to visit!
We praise God for: 
– So many 'small' and 'big' answered prayers!
– The healthy arrival and growth of Niklas
– Time with family
– The gift of Sofia
Join us in praying for: 
– The salvation of friends like N, D, M and the family of Z
– Wisdom as we begin discerning what happens after our term here is done
– Adjusting to being a family of four
With love,
the Warkentin family